We were finally really surprised by a game of the new Play'n GO slot machine Cash Vandal ™. Slip into the shoes of the sprayers in Berlin, London and Paris in this slot. This life is risky and dangerous - but it can be really worth it! Thanks to really creative extras and bonuses on this slot, with wilds, free spins and much more!
Lots of action thanks to 3 unique city extras on the slot
The whole design of Cash Vandal ™ is pretty much reminiscent of that Subway Surfer ™ mobile game - in the most positive sense, because after all, it was one of the most successful mobile games in recent years! And so the Cash Vandal ™ slot is also full of fast-paced action.
The stylish, colorful symbols spread out on 4 reels. Of course, wilds and scatters are also included. And the variance and the potential in this slot machine are extremely high thanks to the cool extras!
Look out for the gold spray cans! These trigger the re-spin function for you, during which the scatter sticks to the reels. Indeed a lot of money only brings the free spins function with the City Extra. This bonus has it all!
Hop on the cash train to Berlin, London or Paris and get a lot of cream!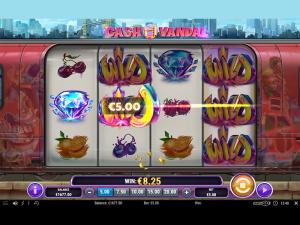 So how do the free spins work at Cash Vandal ™? All you need to do is land 2 spray cans during a re-spin and off you go. The train will take you to one of the 3 cities and you will get 5 or 10 free spins with an extra bonus. These are the extras of the 2 cities:
Berlin: Here you get 2-3 wild symbols with every single free spin!
London: You get 2-9 mystery symbols on every free spin. These all turn into one and the same symbol in the end and pay you off!
Paris: The 1. and 2. Reels merge to form a giant symbol that increases your chances enormously!
These described extras apply to every single spin during the free spins. For you as a player this means a gigantic profit potential. So win up to 5.000 times your commitment on a single spin!